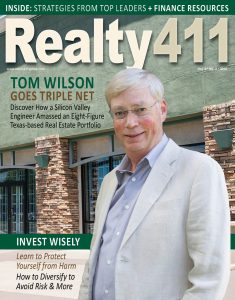 by Tom Wilson, CEO and Founder of Wilson Investment Properties
Do you plan your business, or does your business plan you? Day to day tasks can push you further and further away from achieving your goals without a solid business plan to keep you focused in the right direction.     
A business plan's value is primarily in the process of creating it–in the thought processes it takes to really understand your business and where it needs to go–not in the end plan. A written plan doesn't have to be long to have value. Let's step through the elements that will result in a thorough plan to get your business off to the right start or move your current business to greater success.
The Big Picture: Mission and Vision Statements. State your product or service, market, size, location and business approach. What will your company look like in three years? This is your elevator pitch to state what and who you are.
Products and Services. Define your product or service in detail. What are the features and benefits that will make it unique from your competition? What are your price targets? How much volume and growth are you planning?
Market Analysis. What are the characteristics of your market sector? What is your specific target market and demographics? Who are your competitors and what are the pros and cons of their products and business?
Marketing. Describe how you will brand and advertise your business. What will be your marketing and sales channels? What incentives will you give to your customers and partners? Clearly define your business model monetization.
Strategy. State what the strengths and weaknesses are of your products and/or services and of your company. Describe the business opportunity that you will capitalize on and your market positioning. Define your biggest threats and how you will defend against them. What and when will be your business exit options?
Operations. Give the details for your organization structure: legal entity, key personnel, partners, equipment and facilities. Tell how you will manage the production and processing of the business. Write down a time-line with the human and material resources needed to execute your start up and growth.
Financials. State your precise sales, profit and cash flow objectives over time. Define your financing and capital requirements and what your metrics will be, that is, your accounting methods and tools, and your measurements of performance. And lastly, create financial scenarios for the best case and worst case, as well as target plan. Now is the time to prepare for variations from the goal, not when you are emotionally in the hot seat.
Tom's Top 10 Tips
1 Write your business plan for a lay person, not a specialist in your industry. Keep it simple. Never outsource your business plan.
2 Create a Board of Directors. It doesn't have to be formal. Utilize mentors, peers, and friends.
3 Secure employees, partners, and resources with direct experience in your area of business, even if they have had failures.
4 Use focus groups to test ideas (get some friends together for a focus party).
5 Manage cash flow and capital very carefully. More businesses fail for negative cash flow than for lack of profit.
6 Plan for the potential. Most financial goals take twice as long and twice as much capital as forecasted.
7 Passion, persistence and hard work = over half of success.
8 Be Persistent: Many successful companies took a long time to get financing and partners to believe in them.
9 Talk to Your Competition! You'd be amazed at what ego will prompt your competitors to tell you. Start off with a compliment and share something about your business. Sharing information is usually a win-win situation.
10 Keep honing your business. You don't have to do it all–network, use mastermind groups, and delegate.
---
DO YOU WANT TO LEARN FROM TOM WILSON IN PERSON?!
Tom is one of the most successful investors we know and his ethics are very high. Join us on Feb. 11th in Pleasanton, California to learn more directly from Tom Wilson. Our conference is FREE, but you must register in advance at the link below: https://realty411.ticketleap.com/norcalexpo2017/
Discover more at http://TomWilsonProperties.com or call 408-867-1867. Listen to Tom's weekly radio show at 2 pm Wednesdays on KDOW 1220am, San Francisco's leading business radio station. Podcasts are available on the website, iTunes and YouTube.
Save
Save
Save
Save
Save