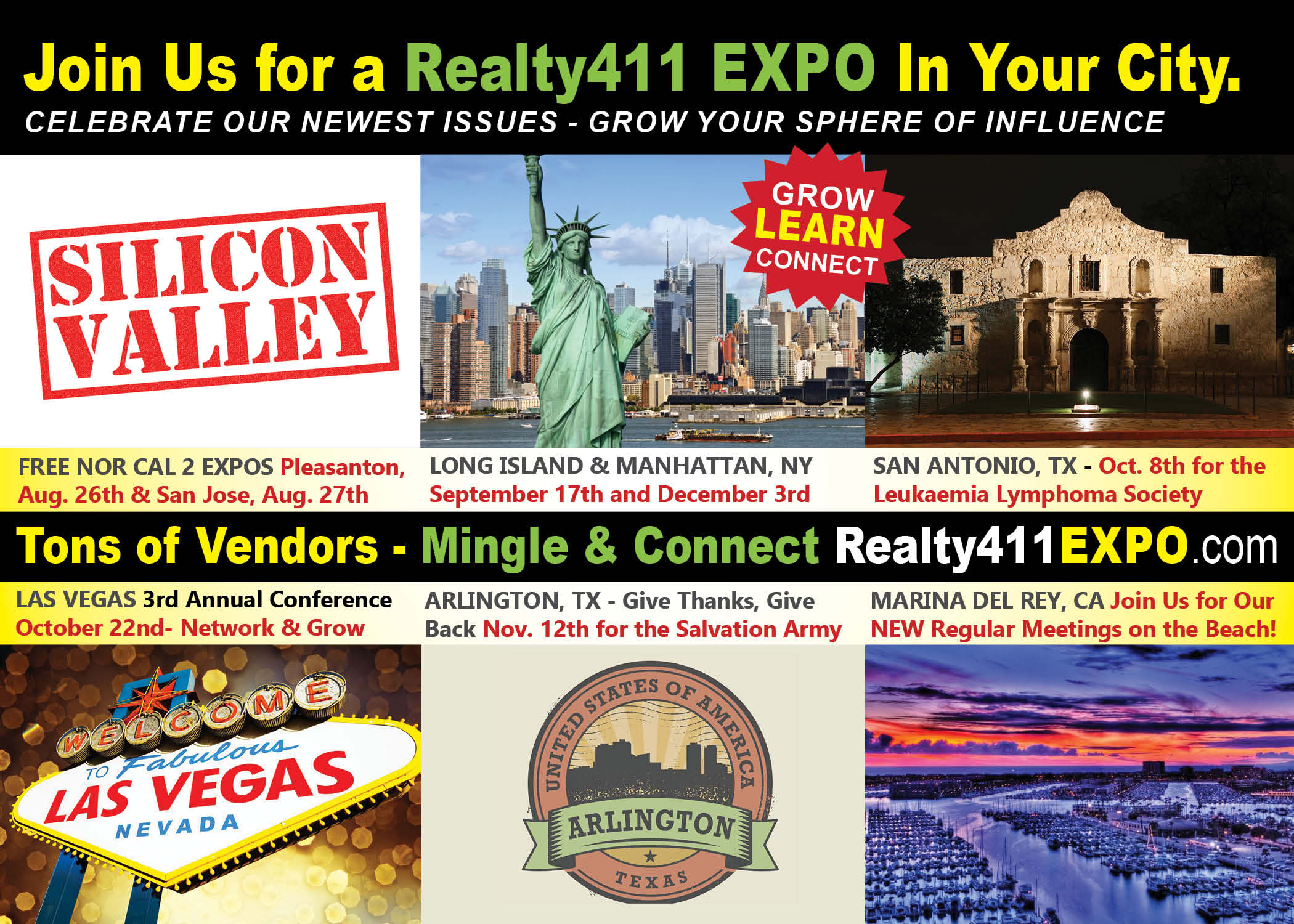 ---
NEW ISSUES, NEW EXPOS

Join Realty411 around the country as we continue to EXPAND, GROW, and INFLUENCE investors in TOP MARKETS around the Nation.
Our New Issues – Promoted Nationwide!
We have numerous upcoming LIVE expos & events and are adding more to our schedule on a regular basis.

> PLEASANTON, CA – AUGUST 26TH – California CA$HFLOW Conference

https://cashflowconference2016.eventbrite.com
> SAN JOSE, CA – AUGUST 27TH – Silicon Valley's CREATIVE Investors' Expo

https://sanjoserealty411expo.eventbrite.com
> LONG ISLAND, NY – SEPT. 17TH – HONORING THE EAST COAST REIA
https://realty411.ticketleap.com/long-island-real-estate-expo—creative-investors-unite-to-lear/
> SAN ANTONIO, CA – OCT. 8TH – The Alamo Real Estate Charity Expo

https://alamoreicharityexpo.eventbrite.com
OR visit our TicketLeap Page for The Alamo Real Estate Charity Expo CLICK HERE
> DOWNLOAD INFORMATION ABOUT OUR SPONSORSHIP CLICK HERE

---
---
GUESS WHAT? WE'RE STILL NOT DONE YET!
More events will be announced shortly in other cities.
Event schedule subject to change, please call our office for the latest information: 805.693.1497
MULTIPLE NOR CAL EXPOS, MIXERS & VIP EVENTS WITH BAWB & OTHER GROUPS.
PLUS, REALTY411 INVITED TO HOST EXPOS IN MORE CITIES IN TEXAS.

Save
Save
Save
Save
Save
Save
Save
Save
Save
Save
Save
Save
Save
Save
Save
Save
Save
Save
Save
Save
Save
Save
Save
Save
Save
Save
Save
Save
Save
Save
Save
Save
Save
Save