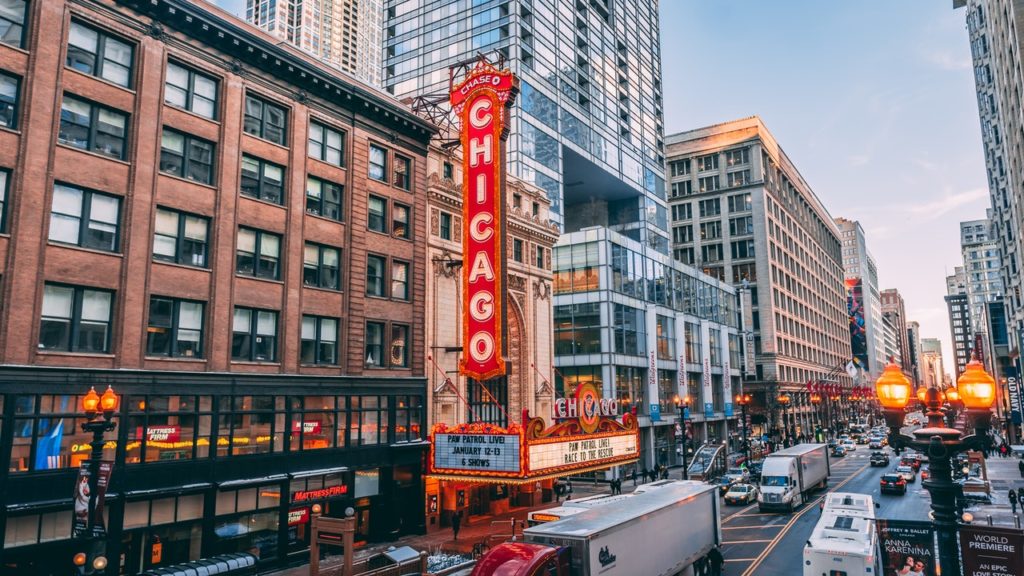 The Chicago real estate market had another super strong month of home sales in July. Since last year was a bit funky with the pandemic we should compare it to 2019 and on that basis closings were up 23.3% despite the fact that we now have 1 1/2 years of pandemic under our belt. And just so you know, almost all that growth was in condos/ townhomes which were up like 35% in that time period.
July was higher than all but two other years in the 25 years graphed below (red points are all the Julys) – and those two years were at the peak of the housing bubble. So that's pretty good. Also, the green moving average line tells us that the last 12 months have hit a record going back to around 2007. That is dramatically different than the downward trend we were on just before the pandemic hit.
Chicago home sales have been declining now for several years but the Coronavirus really tanked the market in May and June of 2020. The market returned to more normal levels starting in July and is now setting new records.
Chicago Home Contract Activity

But the fly in the ointment is that contract activity was down 11.9% from last year, which of course set a record as soon as people got a grip on their housing plans after the pandemic hit. So things appear to be slowing down a little but the fact of the matter is that July contracts were still higher than all other years and 14.8% higher than 2019.

Chicago home sale contract activity has pulled back a bit from the pandemic highs but it's still higher than all the other years.
Pending Home Sales

One of the factors contributing to high sales was the fact that we went into July with a fairly high level of pending home sales to draw from but we drew down that backlog. That leaves us with 580 units below last year, although we are still higher than the previous 3 years. So the rest of the year is likely not going to be as strong as July.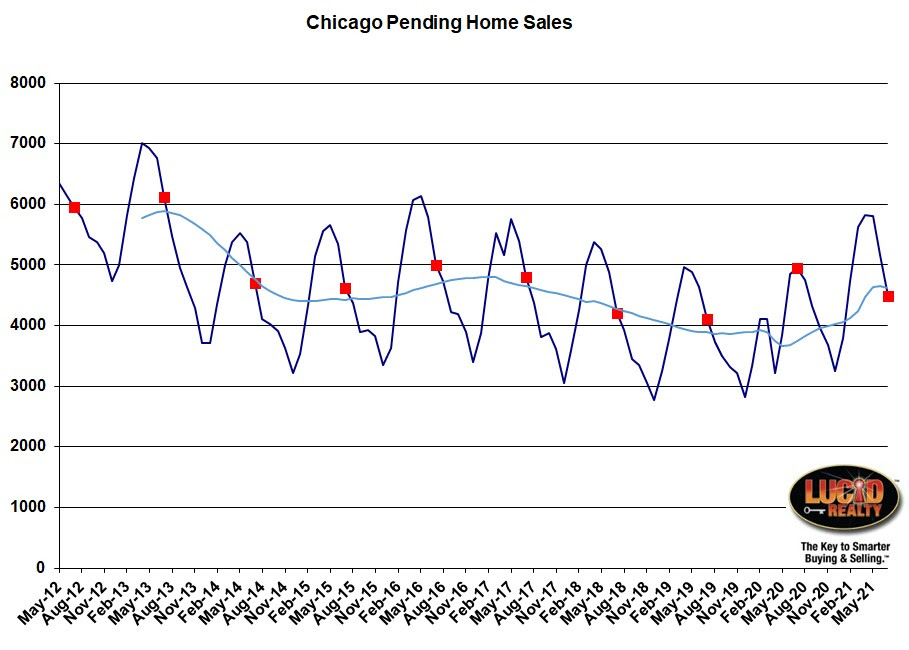 After hitting historic lows the backlog of homes likely to close in the next 1 – 2 months rebounded during the pandemic but is now starting to retreat again.

Distressed Home Sales

With the foreclosure and eviction moratorium there are very few distressed homes that can be sold. Only 1.3% of July's sales were distressed and that is another record low, down from 3.3% last year.
One would think that once the moratoria are lifted distressed sales are going to take off but that might not be the case – at least for a while. One reason is that the foreclosure process is extremely long – like 3 years – so you won't see an immediate effect. But the other reason is that home prices have risen enough that homeowners in dire straits might be able to just sell their home and pay off their mortgage without any problems.
Since the housing crisis the percentage of home sales that are distressed has steadily declined to almost negligible levels.

Chicago Home Inventory

The inventory of homes for sale remains ridiculously low and I continue to do my own calculations to produce the graph below. The most dramatic example of course is detached homes which had only a 2.2 month supply in July, which is the same as last year – nevertheless, a record low for July.
But attached homes were also pretty low with only a 3.5 month supply, which is at the lower end of historic July inventory levels.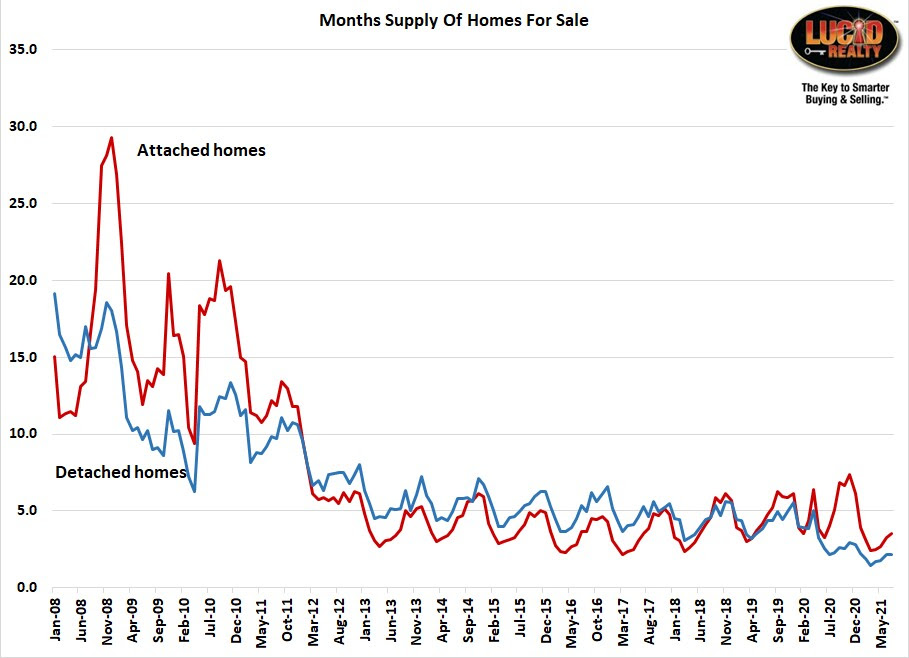 After a big Coronavirus induced spike in April 2020 the inventory of homes for sale dropped back down. Detached inventory keeps setting new record lows while attached inventory has dropped to the lower end of the historic range.
Chicago Home Sale Market Times

With inventory levels so low and sales so high it should be no surprise that market times have gotten ridiculously fast – at least for detached homes. They sold on average in only 42 days. That's down from 70 days last year and keep in mind that half the homes sold in 12 days or less!
Meanwhile attached homes, despite their growth spurt, are selling on average in 66 days, which is only down slightly from last year's 68 days.
When the pandemic first hit Chicago market times rose but now they are actually quite a bit lower than last year. Detached homes are at a record low.
---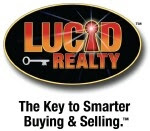 Gary Lucido

Gary Lucido is the President of Lucid Realty, the Chicago area's full service real estate brokerage that offers home buyer rebates and discount commissions.
Gary brings over 20 years of experience in customer service, finance, operations, and information services, and has an obsessive passion for getting the job done quickly and correctly. His corporate experience includes many multi-million dollar contract negotiations that resulted in wins for both parties. Prior to working with a well-known traditional real estate brokerage, Gary was President of a national concierge company, where he worked with Sari. He was also one of the founders of Shop Local, a leading provider of Web shopping services for retailers, where he served as the President and Chief Operating Officer, responsible for client services, operations, and technology. His team built the company to more than 150 employees serving most of the top retailers in the country.

Gary's experience also includes 7 years at Circuit City Stores as Director of Inventory Productivity and Extended Service Plans, where he was responsible for the company's $500 million warranty program and led Circuit City's first supply chain initiatives. In addition, he was a Corporate Business Development Manager at General Electric, where he led a one-year customer service improvement study for GE Financial Services. Early in his career he worked in the strategy practice at Booz, Allen & Hamilton, and in corporate finance at Sears, Roebuck and Co.

Gary received a B.S. degree in math and physics from Duke University and an MBA from Northwestern University's J.L. Kellogg Graduate School of Management, where he concentrated in finance and management policy. He has lived in the Chicago area for over 19 years, including Evanston, Lake View, Lincoln Park, University Village, and East Ukrainian Village.