Did You RSVP for Our Florida Event to Celebrate Our Real Estate Wealth Edition? DO IT HERE!
Posted by admin on Mar 1, 2017 in News | Comments Off

on Did You RSVP for Our Florida Event to Celebrate Our Real Estate Wealth Edition? DO IT HERE!

Celebrate Real Estate Investing in FLORIDA with the only FREE real estate expo in Fort Lauderdale
Hosted by The Millionaires Investment Group
Celebrating Our Real Estate WEALTH Cover Featuring Local Investor John Aaron
THIS IS OUR 5TH EVENT IN FLORIDA – WE ARE GROWING!
Join Us at Our Outdoor & Indoor Beach Business and
Complimentary Real Estate Expo & Mixer!
Learn, Network, Grow – Suntan, Surf, Sail
REAL ESTATE EXPO & NETWORKING MIXER!
Are you ready to Grow Your Real Estate Business, Portfolio and Network?
YOUR NET WORTH IS LINKED TO YOUR NETWORK
We want this Florida Real Estate Beach Expo to EXPAND YOUR MIND and help you achieve success. Have you started to accomplish some goals for 2017? We want to make sure you do!
Learn from TOP Leaders in the Industry! We are hosting Local & National Experts
* Mingle with Vendors * Meet Local Leaders & Out of Area Investors
NON-Stop Tips for Real Estate Success ~ Make 2017Your Year!
We Want & Can Help YOU Succeed. Bring Lots of Cards.
Mingle with Local Leaders & Industry Professionals from Around the Nation!
Hosted by Realty411 – Publisher & Expo Company
** Come Meet Your Local Real Estate Leaders **
Realty411 magazine was first published in 2007 and is now the longest-running publication owned by the same owner – A 30-year veteran journalist, agent & active investor. We have reached thousands of readers & online followers in person and hope to meet you too!
Our mission is simple:

We strive to provide information about real estate to expand knowledge about the benefits of investing to as many people as possible. We also believe in multiple streams of income and encourage others to own their own businesses for total financial freedom. Our Expo Reflects Our Goals and Mission – Join Us to Expand & Grow
Please bring LOTS OF BUSINESS CARDS, it's time to Network.
LEARN ALL ABOUT PRIVATE FINANCE SO YOU CAN GET YOUR DEALS DONE!!!
We give your the resources you need to CLOSE MORE TRANSACTIONS!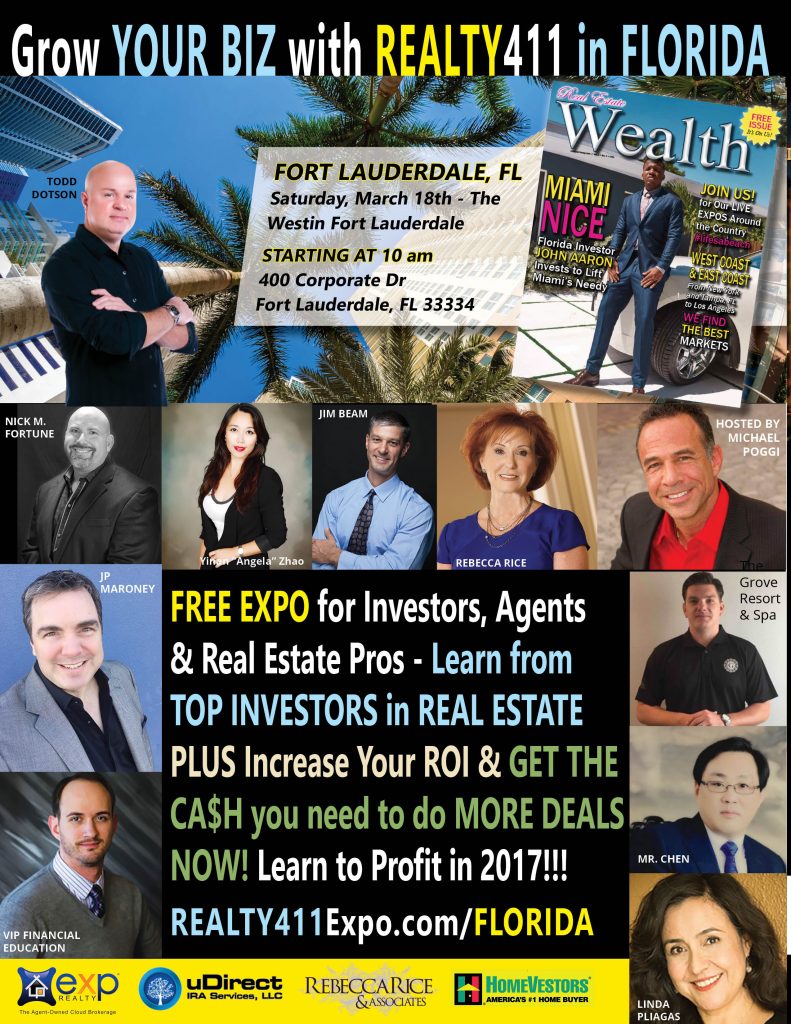 Please bring LOTS OF BUSINESS CARDS, it's time to Network.
NETWORK WITH EXHIBITORS – WIN PRIZES – BRING THE FAMILY
ENJOY A WONDERFUL BREAKFAST MIXER – GROW YOUR BUSINESS!
***Speakers subject to change due to availability – this page will be updated regularly with updates and will include the agenda shortly***
~~~~~~~~~~~~~~~~~~~~~~~~~~~~~~~~~~~~~~~~~~~~~~~~~~~~~~~~~~~~~~~~
WE PRODUCE EXPOS AROUND THE NATION!
Commercial & Residential Real Estate * Private Lending * Raising Capital * Networking Tips to Grow Your Influence * Strategies to Increase ROI * Gain Perspectives on TOP Local & National HOT Markets * Fix & Flips * Buy and Hold + Wholesaling, Notes & More…
EXCLUSIVE THOUGHT-PROVOKING EDUCATION!
This is your chance to gain insight into the local real estate market as well as gain perspective of some of the top areas around the country to invest in. All guests receive TOP Investment publications.
Vital industry and "top insider" information will also be made available at this important event, such as:
1. Where can local investors acquire Private Funds and Hard Money Loans for Investing?
2. What are some Prime Areas to invest in the Local Market?
3. Where are Savvy Investors going to find top Cash Flow markets out of state?
4. What's going on at the Local Courthouse and with the Foreclosure Market?
5. Who are the TOP brokers and agents in the local area and how can they help Investors find, secure and acquire those deals.
6. Discover about other Industry Events happening, which are important to attend – We promote specific important industry events where hundreds of like-minded individuals unite for networking.
7. Meet the publisher of Realty411, who is an active real estate investor. Linda was able to pay her home off in Los Angeles by age 39 by buying and holding rental properties across the country. She is one of the most active proponents in the REI industry. Her publications reach tens of thousands of investors around the world.
8. What areas are being scoped out by Local Investors? Find Out…
~~~~~~~~~~~~~~~~~~~~~~~~~~~~~~~~~~~~~~~~~~~~~~~~~
* Plus, enjoy viewing REI Wealth Monthly, our fully-interactive digital publication
developed for Apple enthusiasts by an investor from San Diego, California
* Learn Tips and Strategies on TOP Real Estate Niches:
Fix 'n' Flip, Wholesaling, Crowdfunding, Buy & Hold,
Local & Out-of-State, Private Lending, Commercial & Residential
~~~~~~~~~~~~~~~~~~~~~~~~~~~~~~~~~~~~~~~~~~~~~~~~~
FOR INFORMATION PLEASE VISIT http://realty411expo.com
CALL: 805.693.1497 | 24 Voice Mail: 310.499.9545
***Speakers subject to change due to availability – this page will be updated regularly with updates and will include the agenda shortly***
Save
Save
Save
Save
Save
Save
Save
Save
Save
Save
Save
Save
Save
Save
Save
Save
Save
Save
Save
Save
Save
Save
Save
Save
Save
Save